Your website will become more unique if you
add the flash objects
on it. We have prepared very simple way to add
slideshows, animations, postcards, games
to your Memorial website.
1.
Log-in
To Your website
2.
Go to
Main Page Tab

3.
Click on Small Icon (
Insert Flash code
)

4.
In new opened window
paste your generated code
from another website.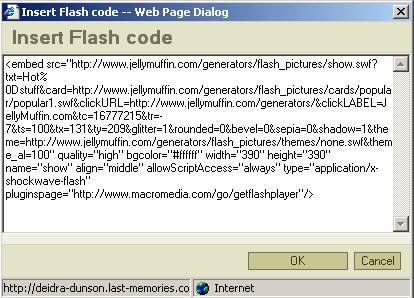 5. Press
OK
and after that press
Save button
.
Please visit this website if you want to see flash objects in action:
Deidra Dunson Memorial Website
A. To generate slideshow codes please visit this website
www.rockyou.com
B. To generate flash objects visit this website
www.layoutcodez.net
C. To generate calendars go to
http://www.wishafriend.com/calendars
D. Other Generators:
http://www.pageplugins.com
E. You can find in google many of this websites... try to search for this term "
flash objects generators
".
Note: In case that you are using Internet explorer 6 or FireFox as your web browsers, the flash objects will probably not be shown in text editor. We highly recommend to use Internet Explorer 7 which is more secure and you can
download it from
this link for free.
_________________
http://www.Last-Memories.com
- The Online Memorial Services on internet
Memorial Website, Memorial Video, Memorial Book, Family Tree, Photo Albums, Candles, Stories, Memories, Forums, Live chat