1.
When you find youtube video and want to add to your website, just copy
everything from
EMBED field
which you can find next to video on right hand
side.

2.
In your text editor on your website you can find
youtube icon
.

3.
Just click on it and paste everything you have copied from the
EMBED field into new
opened window
.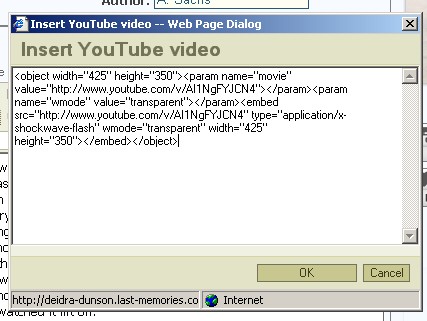 4.
Click
OK button
and your video will be added.
5.
Now just click
Save button
and YouTube video will be shown on page.
To

DELETE

YouTube videos use this simple steps.
1.
Go to section where the YouTube video is located
2.
Click on YouTube video
3.
After one second click again on video
4.
Press
backspace
(not delete) on your keyboard
5.
YouTube video should be deleted
Note: In case that you are using Internet explorer 6 or FireFox as your web browsers, the youtube video will not be shown in text editor. We highly recommend to use Internet Explorer 7 which is more secure and you can
download it from
this link for free.
_________________
http://www.Last-Memories.com
- The Online Memorial Services on internet
Memorial Website, Memorial Video, Memorial Book, Family Tree, Photo Albums, Candles, Stories, Memories, Forums, Live chat